UR24T
Regular price
Sale price
$504.00
Unit price
per
Sale
Sold out
TrueClr F Female Active External Urinary Catheter Apparatus Starter Bundle
The Starter Bundle Includes: 
1 TrueClr F Female Urinary Catheter Apparatus

1 Drive Medical Vacu-Aide QSU Quiet Suction Apparatus

1 Drive Medical Suction Canister

1 Drive Medical Carrying Case
 The TrueClr F external catheter attaches to the female urethra using suction and actively empties the bladder. Common indications for use include bladder weakness or prolapse, cystitis, urinary retention, urinary incontinence, or nerve damage.
The UR24T Active External Urinary Catheter Apparatus is the worlds first completely external catheter system designed to actively empty the bladders of adults and pediatrics (coming soon), while eliminating the need for indwelling or intermittent catheters, eliminating CAUTIs, Catheter-Associated Urinary Tract Infections.
Non-invasive
No adhesives, easy to apply and remove
Male, Female, and pediatric versions 
Latex-Free and Hypoallergenic
Leak-proof design
Avoids urine contact with skin
Suction helps to completely empty the bladder
TrueClr Provides Peace of Mind
Why Do Doctors Choose TrueClr For Their Patients?
TrueClr completely empties the bladder
No painful insertion of indwelling or intermittent catheters
Eliminates the risk of CAUTI, Catheter-Associated Urinary Tract Infections
Minimal Training of clinical staff is needed to get started
Why Do Caregivers Choose TrueClr For Their Patients?
No need to shave the patient or apply adhesives
Bladder can be fully emptied with no muscle control needed for urination
Can be used in ambulatory and non-ambulatory patients
Portable and convenient for use outside of the patients room
Quiet, battery operated suction pumps allow for portability
No special training needed by staff
Reimbursable through Medicare and private insurance
Why Do Patients Choose TrueClr For Themselves?
Comfortable design for both men and women
No painful insertion of intermittent catheters for improved comfort
External, Non-Invasive application allows for improved quality of life
No Leg bag or diapers needed, improving self esteem

All Urine is collected and contained within the system
Urine doesn't come in contact with the skin, lowering irritation to the skin
Eliminated risk of CAUTIs
Patients can get a better nights sleep without needing to wake up to urinate


View full details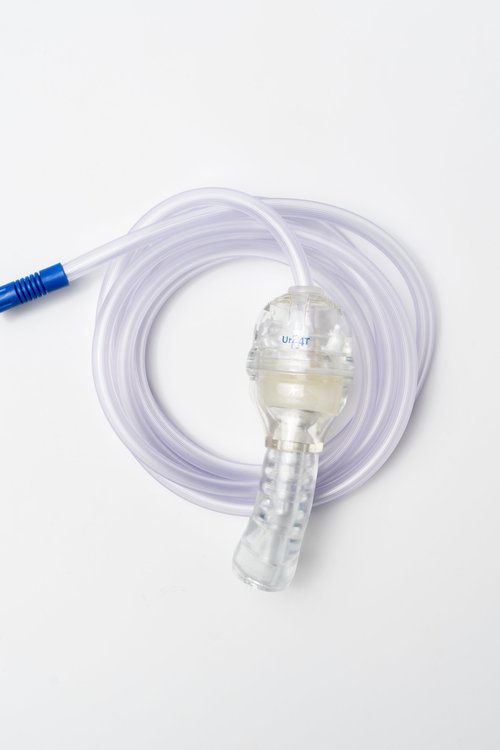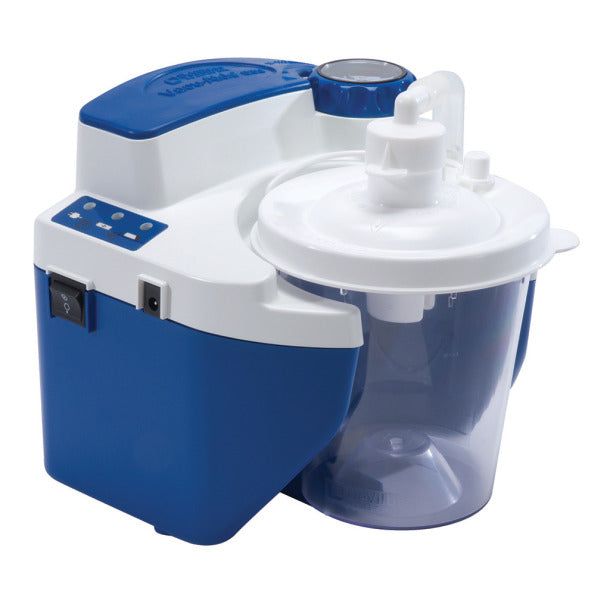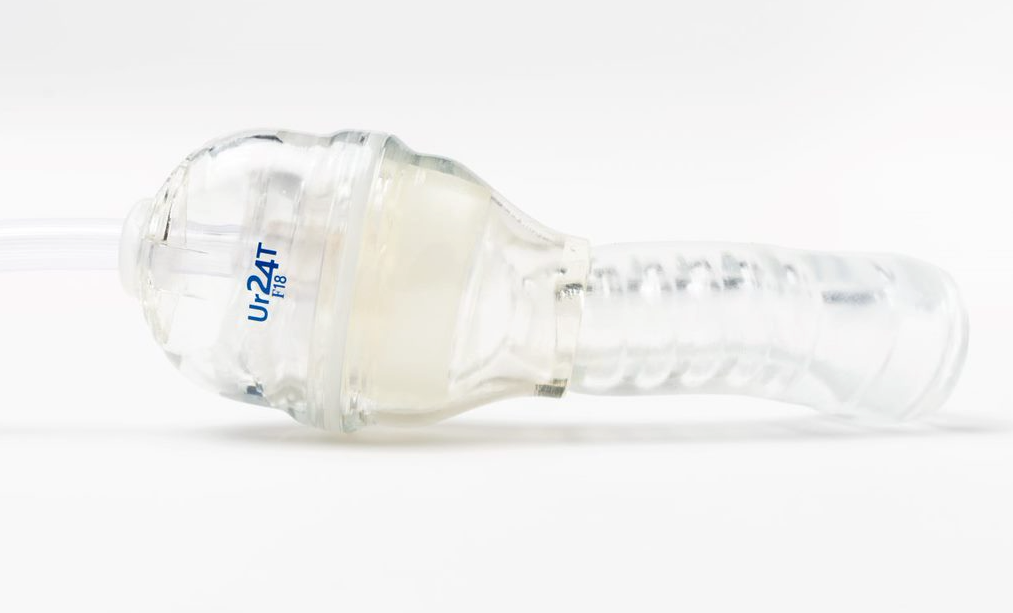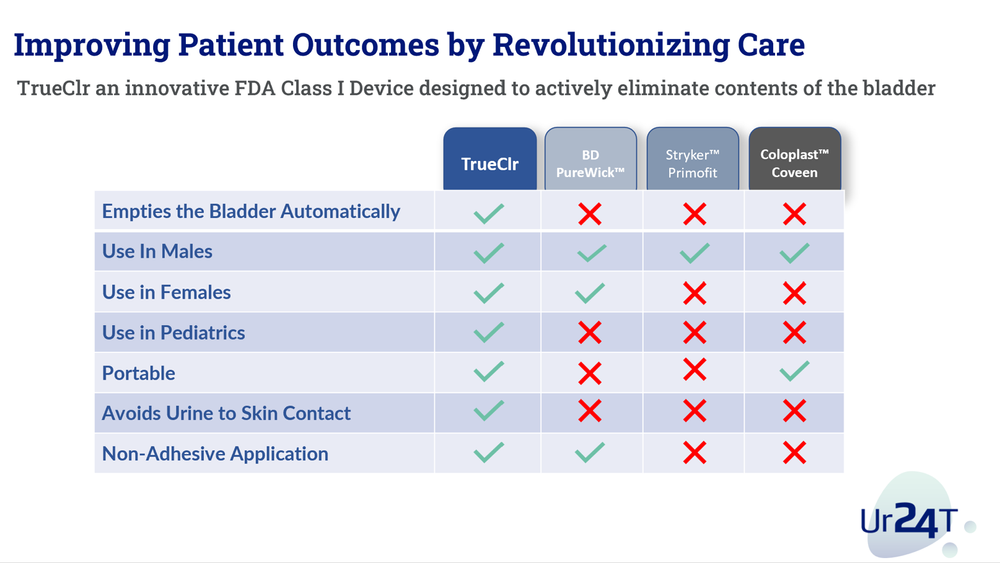 Frequently Asked Questions
What are the differences in the models?

The TrueClr M version is for male urinary evacuation.

The TrueClr M+ is smaller in size, increasing the amount of suction for on demand evacuation and for wheelchair bound patients.

The TrueClr F is for female urinary evacuation.
What items are needed to get started for at-home use?

You will need a TrueClr External Urinary Catheter Apparatus, as well as a suction unit. Rhino Medical Supply offers a starter package for the TrueClr Active External Urinary Catheter Apparatus, the Drive Medical Vacu-Aide® QSU Quiet Suction Unit, and additional useful items such as the UR24T Antibacterial spray, replacement suction Drive Medical canisters, personal care wipes, gloves and more.
Are there safety features on the TrueClr apparatus to protect patients?

Each TrueClr device has built in pressure release valves that open when too much suction pressure is present in the system, protecting patients from injury. Once these protection valves have opened and engaged, they will remain open and a new TrueClr device will be needed.
Are the at home suction units easy to use?

The aspirator has an easy-to-read pressure gauge, which helps patients and caregivers the ability to select precise measurements of the vacuum. The tubing on the TrueClr devices connects to the top of the suction canister at the port with "to patient" verbiage. The aspirator is quiet, and features an internal battery as well as AC and DC power cords.
How large is the collection system?

The Drive Medical Vacu-Aide QSU Suction Unit has an 800 cc collection container. The collection container should be washed after each use, and replacement containers are also available.
What maintenance is required for the system?

TrueClr is intended for a single patient. After each use, empty the collection canister and flush the contents down the toilet. Clean the canister with soap and water. Apply UR24T Antibacterial Spray cleaner (sold separately) to the device and then wash with soap and water.
What is the maximum amount of suction for hospital grade wall aspirators?

Hospital-grade wall aspirators should never exceed 130 mmHg of vacuum suction. Clinical staff should start at lower levels of suction and titrate up slowly until enough suction is present to begin extracting urine through the tubing.
How long can the TrueClr catheter be used?

TrueClr is intended for a single patient and can be reused for a maximum of 30 days in a home setting or for 15 days in a hospital setting.

The TrueClr device should be replaced if:

There is damage to any portion of the device
The pressure release valves have been activated
The tubing is blocked, kinked, or doesn't allow urine flow
The device has been used for 30 days in the home or 15 days in a hospital setting
Does the TrueClr qualify for Medicare of Insurance Reimbursement?

Yes. The TrueClr devices are covered by Medicare and qualify for reimbursement under Part B DME. Many private insurance companies asl cover part or most of the cost. Check with your insurance company to verify reimbursement levels. The Purchaser of the product is solely responsible for reimbursement through Medicare or private insurance. Rhino Medical Supply does not have the ability to submit claims, bill insurance or Medicare, or provide reimbursement services for the TrueClr product Reimbursement.
What are the HCPCS Reimbursement Codes for the TrueClr products?

TrueClr devices and the Vacu-Aide QSU aspirator are covered under the HCPCS Code E0600
What suction units work with TrueClr?
Helpful Items
Regular price

Sale price

$9.00

Unit price

per

Regular price

Sale price

$9.00

Unit price

per

Regular price

Sale price

$9.00

Unit price

per